Today we are celebrating pumpkin for the annual #virtualpumpkinparty organized by fellow food blogger Cake Over Steak. Almost 100 food bloggers are participating! You can see a list of all of the posts here.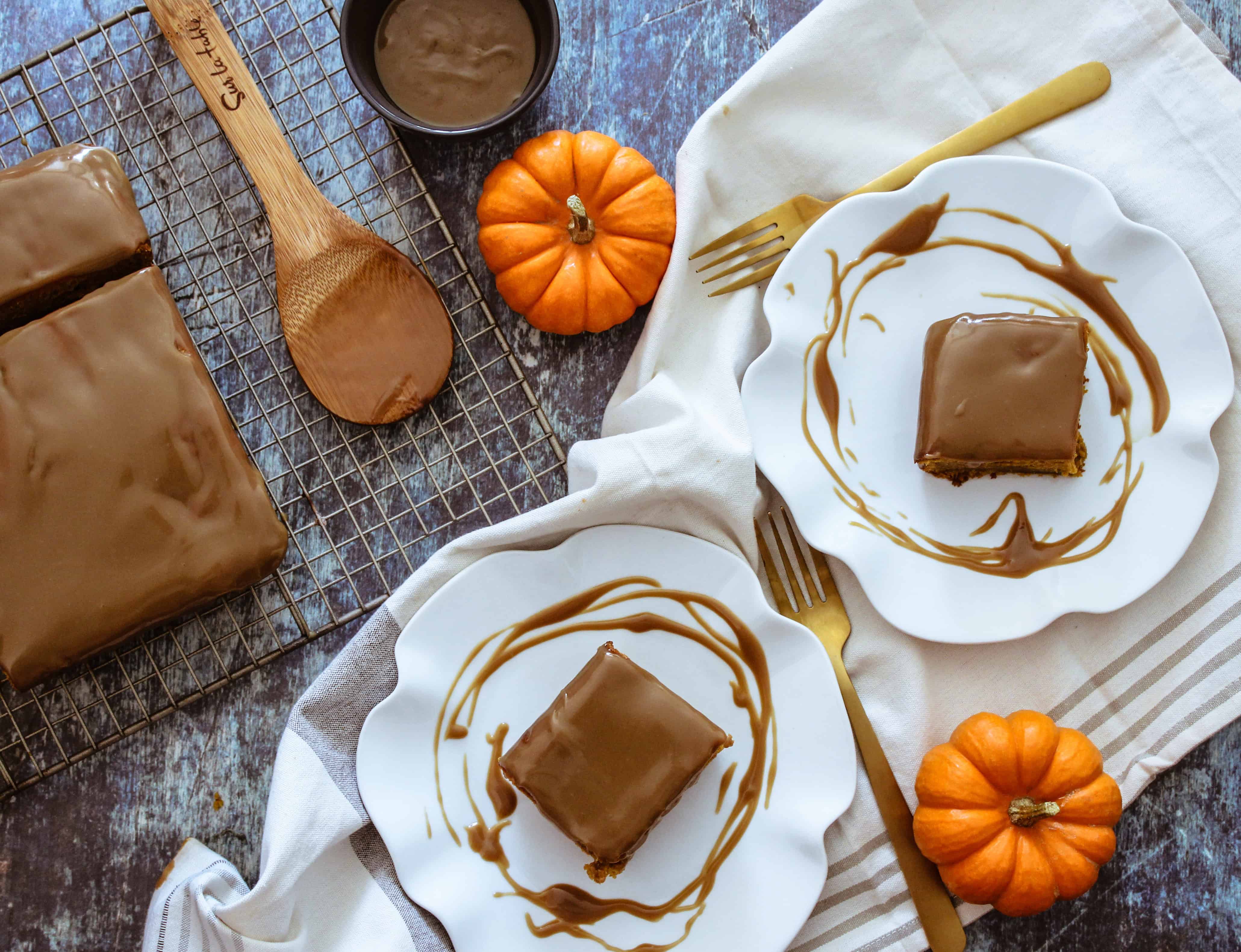 I created a pumpkin cake with blond chocolate ganache for my recipe. I recently reviewed several delicious french products including Valrhona Dulcey Chocolate which is considered the 4th color of chocolate – blond – (after white, milk, and dark chocolate). If you love caramel, you'll love this creamy chocolate, slightly sweetened from the muscovado sugar. The muscovado sugar also gives the chocolate a rich flavor and beautiful brown color. I also used President butter which is a French butter made with creme. Delicious!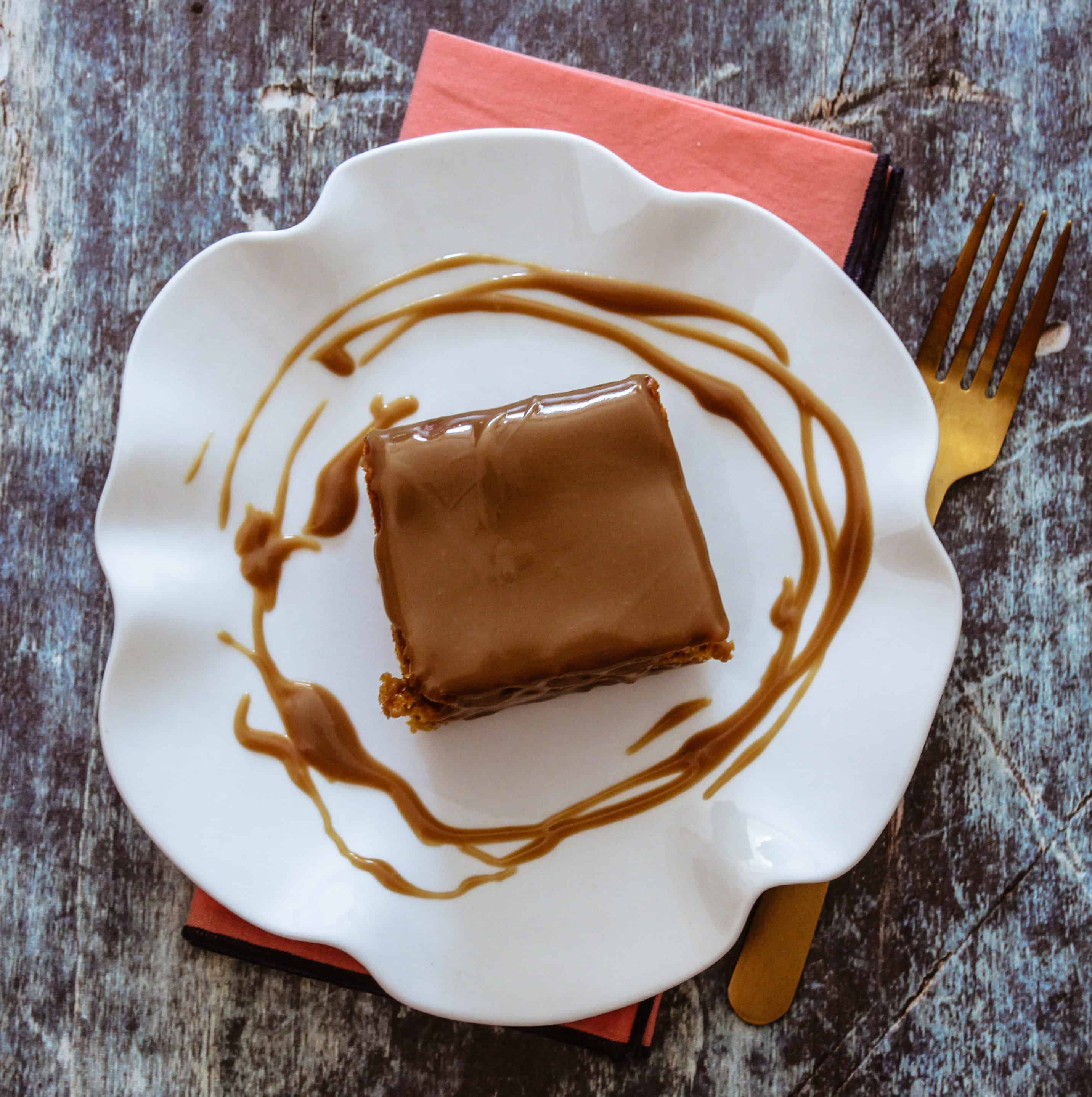 As you can tell from the pictures I still haven't mastered the plate drizzle, but I keep trying.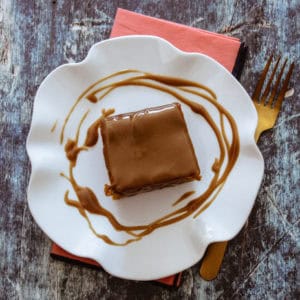 Pumpkin Cake with Blonde Chocolate Ganache
2017-10-23 00:54:32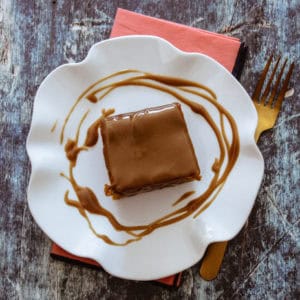 Nutrition Facts
Amount Per Serving
Total Carbohydrates
1278
g
* Percent Daily Values are based on a 2,000 calorie diet. Your Daily Values may be higher or lower depending on your calorie needs.
Ingredients
Cake
8 tablespoons (1 stick) unsalted butter, room temperature, plus more for pan
1 2/3 cups all-purpose flour
2 teaspoon ground cinnamon
1/4 teaspoon ground nutmeg
1/4 teaspoon ground allspice
1/2 teaspoon salt
1/2 teaspoon baking powder
1/2 teaspoon baking soda
1 cup sugar
1/2 cup coconut sugar
2 large eggs, at room temperature
1 cup homemade or canned pumpkin puree
1/2 cup milk at room temperature
Ganache
1 1/2 cups heavy cream
1 pound of Valrhona Dulcey Chocolate, baking bag or bar
Instructions
Heat the oven to 350 degrees. Butter an 8 inch square cake pan or line with parchment.
In a large bowl, sift together flour, cinnamon, nutmeg, allspice, salt, baking powder, and baking soda; set aside.
In the bowl of an electric mixer fitted with the paddle attachment, beat sugar, coconut sugar and butter together until light and fluffy, about 2 minutes. Add eggs, and beat until combined. Add pumpkin puree and milk; beat until combined. Add reserved flour mixture; beat on low speed until just combined.
Pour batter into prepared pan. Bake for about 50-55 minutes, until a toothpick or cake tester come out clean. Transfer the cake to a wire rack to cool for about 20 minutes.
Remove cake from pan and let cool completely in wire rack, about 20 more minutes.
Once cake has cooled make ganache. In a heavy saucepan boil heavy cream. Turn off the heat and add chocolate pieces. Use a rubber spatula to stir the mixture until all the pieces are melted
Using an offset spatula, spread icing over top of cake.
Cocoa & Salt http://cocoaandsalt.com/